Biography
Joacim Cans was born on February 19th 1970 in Mora, Sweden, and Cans is his actual last name. In the old days the names of farms were used as a prefix to people's names.
– So then it would have been Cans Joacim and a proper last name after that. I think it used to be Eriksson. A lot of people think I've taken the name, but why would I want to have "cans" as my artist name?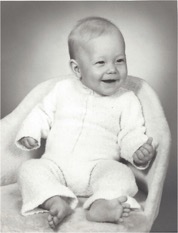 Joacim anno 1970
In a small town like Mora, most things revolved around skiing or ice hockey. The Cans family didn't even have a stereo until Joacim was 7-8 years old.
– Music came into my life pretty late. 1981 I heard "Strong arm of the law" by Saxon and that was a musical revolution for me.
After trying out as a singer for local band Unseen, Joacim moved to Gothenburg with his mother after his parents separated. He was fourteen then. At this point he was a competitive swimmer at a high level. He maintained the swimming in Gothenburg but music was now competing for time and interest as he found a band to rehearse with. They wanted a singer but Joacim – who now thought of himself as a guitarist – brought his guitar. After a short time he was the only guitarist in the band.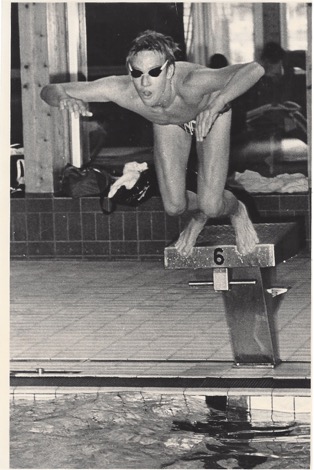 Mora Simhall early 80's
– But I kept singing "for now". It was like that in all of my early bands, I sang "for now" until we could find a singer.
Joacim's goal as a competitive swimmer had been set on Swedish elite, World Championships and the Olympics. But when he failed to reach the Junior European Championships by mere 36 hundredths, Joacim lost the passion for the sport and committed to music instead. After passing through a few more bands, during which he went back to singing, Joacim came to an unexpected decision.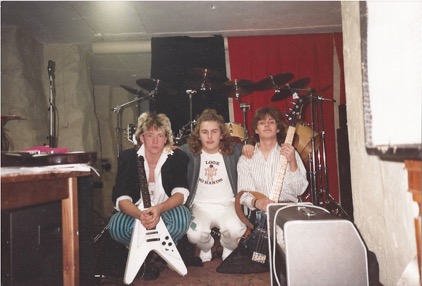 Eternity 1986
– I decided to quit music. I was eighteen, so my career had been short but intense. I thought that I needed to something about my life and get a job. So I bought a candy store together with my sister.
Some years away from the music scene followed before Joacim got a call from a band that needed a singer for a contest.
– I was asked to sing on two or three songs, and that was it. This was the band which would later become Highlander and – later on – Lost Horizon.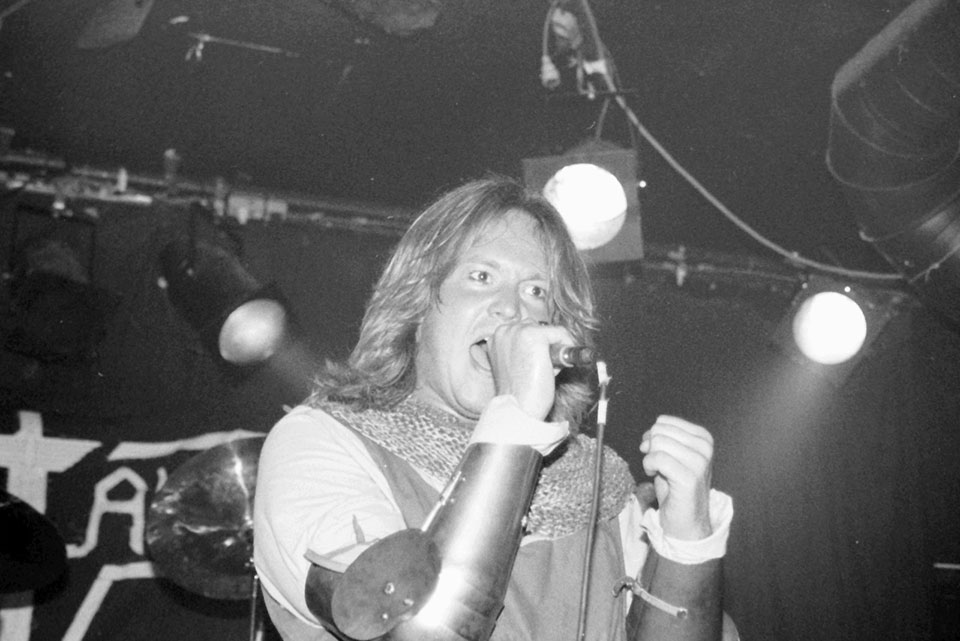 Highlander live at Magasinet in Gothenburg
At this point the candy store had gone down the drain and Joacim was working as a student assistant at a school. The turning point came when Mikael Myllynen (better known as Mike Moon) of King Diamond asked him to join his new band. Nothing came of this but it gave Joacim the push he needed.
– When he called me I decided to give music a proper chance. Nothing kept me in Gothenburg except for Highlander, who were active now and then. So I applied to Musicians Institute in Los Angeles in 1992.
He was accepted and after a year in Los Angeles he returned to Gothenburg in 1994. He was out of work and heavy metal was completely dead. Joacim kept busy in the music scene, though. Highlander were back together for some time and a stint as a singer in stoner band Mrs Hippie resulted in an album. That's when the phone rang again. And again, the call was from a band that needed a singer for a contest. The caller was Jesper Strömblad (then in In Flames), the band was called Hammerfall and the contest was Rockslaget ("the rock battle"), a prestigious contest at the time. The band's singer Mikael Stanne was off on tour with his regular band Dark Tranquillity, so they only needed Joacim for this gig.
– Actually, I had quit music again. But I thought that it would be OK to do two or three songs with them. I told a friend that if nothing happens with this, I'm out of music for real.
When Joacim came to the rehearsal room, a guy stood there playing a guitar lick. Joacim identified it as "Dorian Gray" by Stormwitch. The guitarist, Oscar Dronjak, looked up in surprise and that moment gave birth to a long and fruitful relationship. The contest gig was filmed and somehow the film ended up with the small Dutch label Vic Records. They promptly offered Hammerfall a record contract.
– Oscar, Jesper and I wrote most of "Glory to the brave" in less than three months and in November it was recorded and mixed. It was then that Oscar and I realized that this was too goof a thing to waste as some kind of side project.
The other members were in other bands, but Joacim and Oscar explained their intentions and asked the others to make a choice.
– And everybody disappeared. Instead, we recruited Stefan Elmgren on guitar and Magnus Rosén on bass. Patric Räfling played drums on the first two albums, before being replaced by Anders Johansson.
Now there was a band and an album. But just as Vic were about to release the album, Markus Staiger at Nuclear Blast happened to get a promo tape and Nuclear Blast bought the entire product. They set off a campaign befitting an established band and "Glory to the brave" entered the German chart at 38; then a record for a metal debut album.
– We were dumbstruck. Now we were about to embark on a tour, after only playing the occasional small gigs. We had played a bar in Mora and now were about to play the main stage at Wacken Open Air at eight PM. The goal was to sell 5000 units of the album. I believe we sold 60.000 units in four months just in Germany.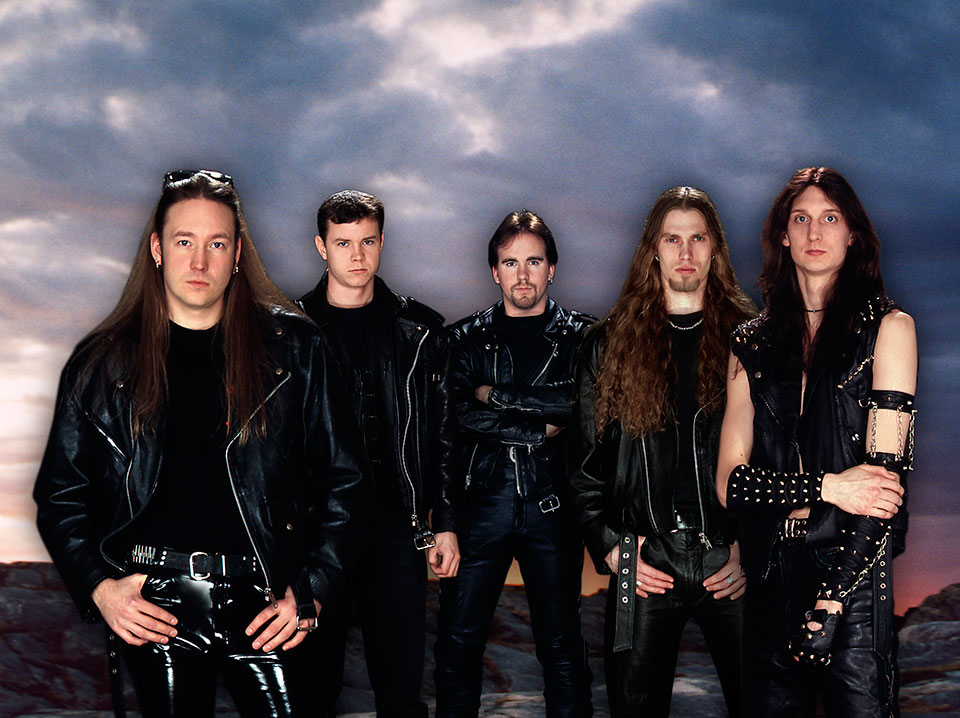 First promo picture of HammerFall
Early in their career, Hammerfall used to record cover songs by rather obscure bands. This helped bands like Stormwitch, Picture and Warlord get their careers going anew. In 2001 Joacim got a call from a band again, but this time not one that needed a guest singer for a contest.
– I was so happy I almost fell off the chair. It was Bill Tsamis of Warlord who called me! They were back together and about to record an album. He asked me if I wanted to sing on it!
He did. The album was called "Rising out of the ashes" and was released in 2002. The same year Warlord appeared live for the first time ever, at Wacken Open Air, and Joacim was the singer for that show.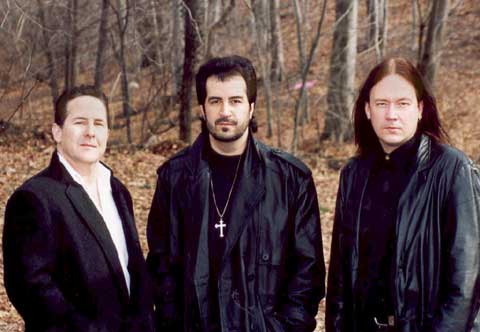 Warlord 2002: Thunder Child, Destroyer and Joacim (Damian King III)
– But that was all. It was difficult logistically and at that time, Hammerfall was getting up speed.
Some people were annoyed by the sudden success of the band and there was some trash talk, even from other bands.
– Many of them have later admitted that Hammerfall opened doors for them as well. Heavy metal had basically gone out of existence before we came.
While some just sported anti-Hammerfall shirts, there were those took it a little too far. One evening at local rock bar Daily's, one antagonist of the band spotted Joacim and felt severely provoked by that. He promptly decided to solve this inner conflict by smashing a beer glass into the singer's face.
– I think I got 35-40 stitches and I was within millimeters of losing my sight. Most people probably don't realize how this changed my life. After this, I became more reserved towards people I don't know.
During the following tour for the "Crimson Thunder" album, Joacim stayed in his hotel room for most of his free time.
– But I get so bored in hotel rooms that I almost go into anxiety attacks, so I have to do something. Then I get creative, and my solo album was born during that tour.
"Cans" was released in 2004 and offered heavy metal in the same vein as Hammerfall.
– But with more attitude. I could experiment a little more. And I had to get that out of myself, because I had so much aggression in me after what had passed.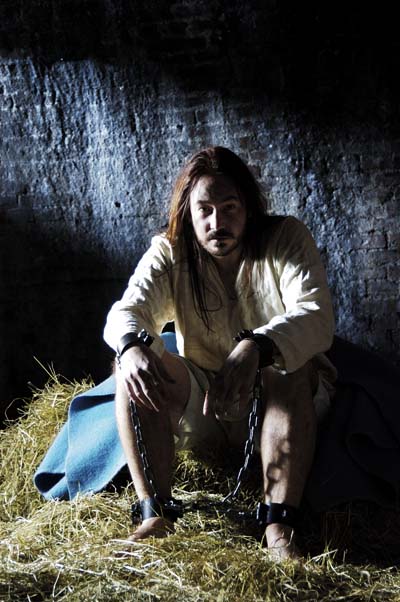 During the shooting of the Red Light video clip
In 2005 Hammerfall released "Chapter V: Unbent, Unbowed, Unbroken" and the same year Joacim – for the first time – sang in Swedish with the band when they appeared in a celebration of "Melodifestivalen" (the Swedish qualification contests for the Eurovision Song Contest). They performed "När vindarna viskar mitt namn" ("When spirits are calling my name") together with Roger Pontare, the original performer of the song in ESC 2002. The TV cameras took a liking to Joacim and he started getting requests for more TV shows. But in 2006, there were unexpected problems. Hammerfall had recorded their new album "Threshold" and the band started rehearsing for touring and release party.
– But when I sang over a certain note, my voice disappeared.
Joacim rested until the release party but the problem remained. After talking to a number of physicians, a polyp was finally detected on one of his vocal cords.
– Surgery was planned for early December. The tour was starting January 15th. After the operation, I was under orders to remain silent for two weeks. But everything went well and I actually think my voice is stronger after the surgery.
In 2008 Joacim got a question that would drastically change his status, at least in his home country.
– They called from "Körslaget" ("Clash of the choirs") and asked me to participate in the very first season in Sweden. I accepted, provided I could do it my way. If I got to pick the songs and the choir members. I was allowed to do that and those were probably the best eight weeks of my life.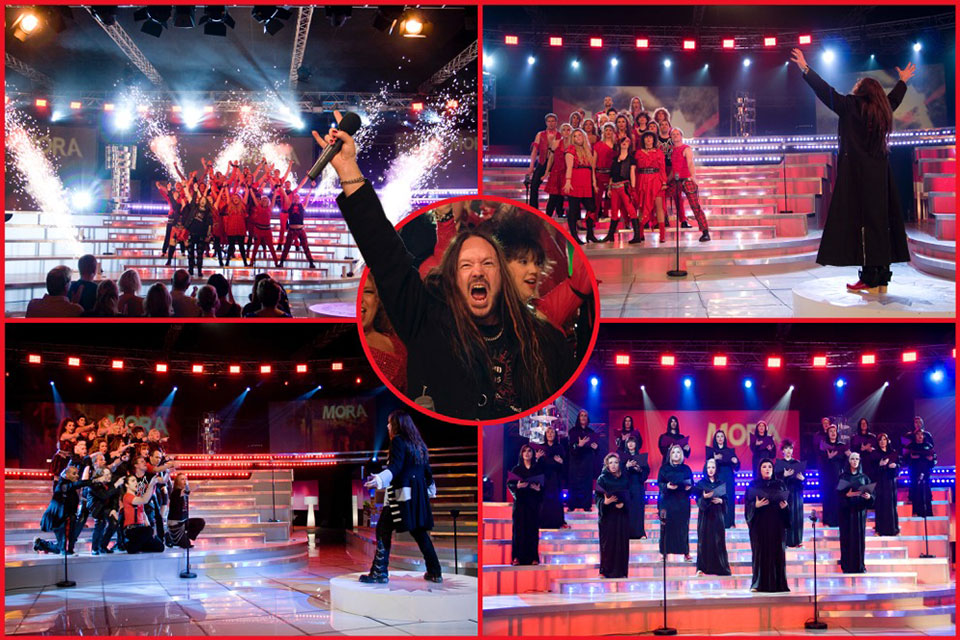 Körslaget 2008 (Clash of the Choires)
Not less so considering Team Cans won the entire contest. Now Joacim had put both himself and metal on the map. His original hometown Mora was renamed Cansas City for a short period and offers for TV appearances increased.
– This was my big breakthrough in Sweden. After this, I was offered to perform in "Rhapsody in Rock", a rock show that was a big thing in Sweden for a number of years. Another big thing was when I was asked to participate in the celebration of the wedding of Crown Princess Victoria of Sweden.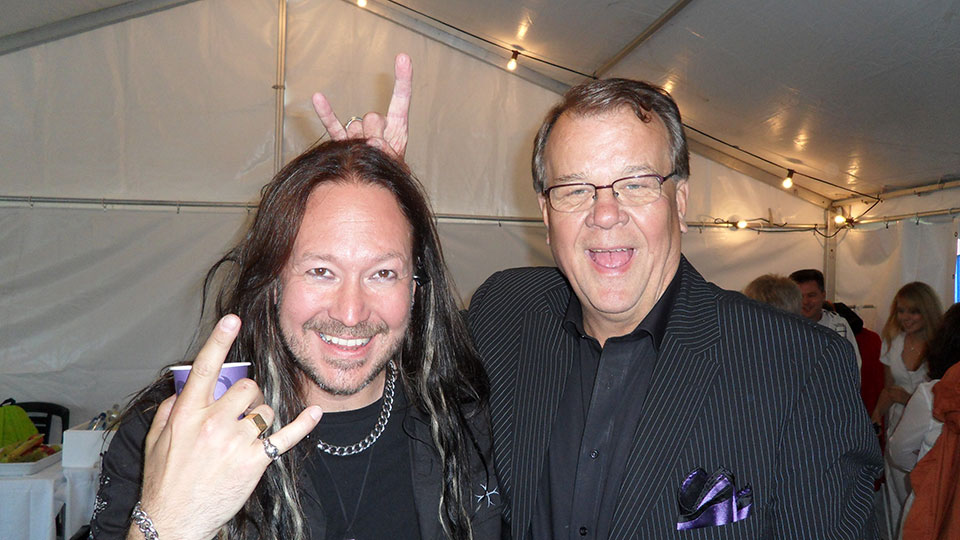 Joacim and Lasse Berghagen in Ockelbo
A string of TV appearances followed, both on his own or together with band members. But these days, Joacim usually turns down the offers. In 2012 came an offer that he couldn't refuse, though.
– I have always had this dream of acting or being in a musical. But I've never been able to set aside the time to do that. When I was offered the part of Dennis Dupree in the Swedish version of "Rock of Ages" Hammerfall had just decided to take a year off in 2013, so suddenly this was possible. It was the perfect part for me, a metal musical! But I had more of a speaking part than a singing part, and that was quite a challenge for me. You can't go around calling yourself an actor just like that, I am very humble before that word. And now I was expected to act with people who did it professionally!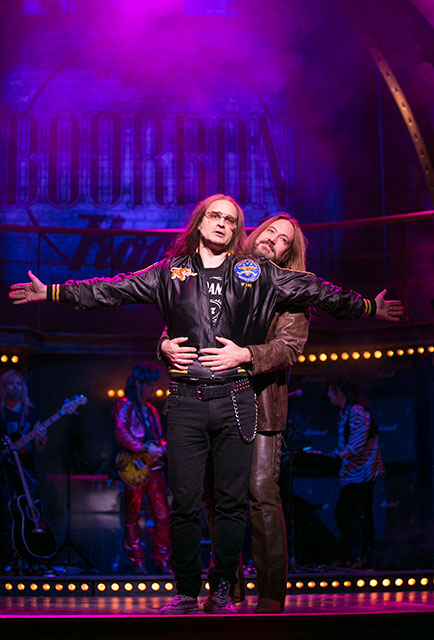 "Male bonding" with Rheborg and Cans (Rock of Ages)
The year off from Hammerfall also allowed Joacim to record another solo album and to participate as a contestant in "Melodifestivalen". With a pop song. In Swedish.
– I've always been fond of Swedish "vispop" (closely related to singer-songwriter music). During my teens I enjoyed several Swedish pop singers in that vein. And later on, the singer-songwriter Magnus Johansson became one of my favourites. When Hammerfall took a year off, I embarked on a musical pilgrimage. I wrote "Annelie" as a tribute to Magnus Johansson (Annelie is the female character in one of that singer's most popular songs). Everybody expected it to become a hit song, which is why I brought it to "Melodifestivalen". It didn't perform as well as expected, though. Anyway, it was also on my new solo album "Nu kan mörkret falla" ("Now darkness can fall"), consisting of songs in Swedish and in the "vispop" genre. Those songs are about my youth. It's my way of dealing with that period and the lyrics are much more personal and deep than the Hammerfall lyrics.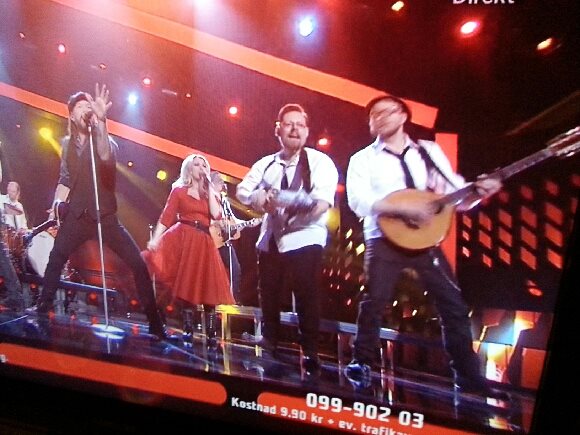 Melodifestivalen 2013 (ESC)
It also gets personal when Joacim is one of the celebrity hosts for a jukebox radio show in Sweden, where plays and talks about songs with invited guests. This is a lot already, but Joacim also finds the time to give lectures occasionally. Every time Hammerfall tours the US he does a workshop at his old school in LA.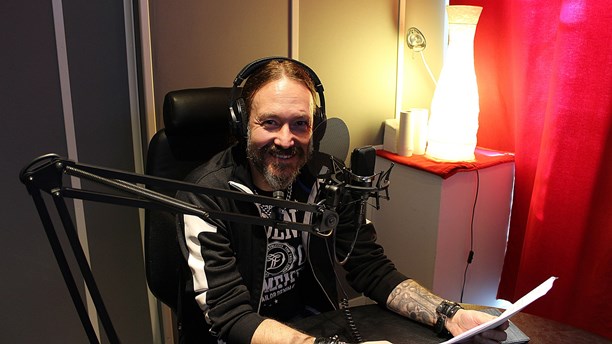 Jukeboxen at Swedish Radio P4
– And this has developed into a kind of ambassadorship in Sweden for the school. I lecture at "study abroad"-fairs. I talk about my journey from the junior national swimming team to becoming the singer of one of the most popular metal bands in the world. It's been a fantastic journey.